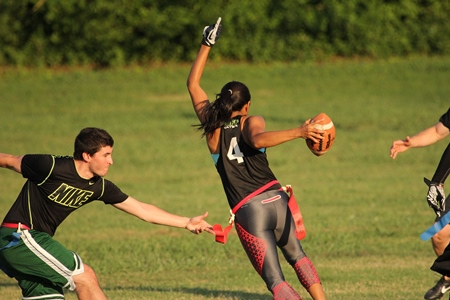 Spring Registration Dates (for leagues beginning in April/May)
Priority Registration: Feb. 13th until NOON on Feb. 21st
Open Registration- starts at 12:15pm on Feb. 21st
Individual Registration- starts at 12:15pm on Feb. 22nd
As league details are finalized for the spring season, they will be posted at the bottom of this page.
🏈ABOUT URBAN REC FLAG FOOTBALL:: Calling all NFL die-hards, NCAA college football fans, sport fanatics, social athletes looking to have a good time and anyone interested in learning a new sport activity! Flag Football attracts a few people who grew up playing it in North America, but also tons of people who are new, and want to try something different. Once you learn the basics, you will become addicted to this strategic, team-oriented game.
Each game will be played within a one-hour timeslot. Urban Rec will provide all flags and belts and will have footballs available, but you are welcome to use your own as well.
---
👫DEDICATED URBAN REC STAFF: Every league has a dedicated League Manager, and League Coordinator. If you are new to the sport, you can expect some coaching tips, and support as you or your team learn the basics. Your League Manager will ensure your season is a second-to-none experience.